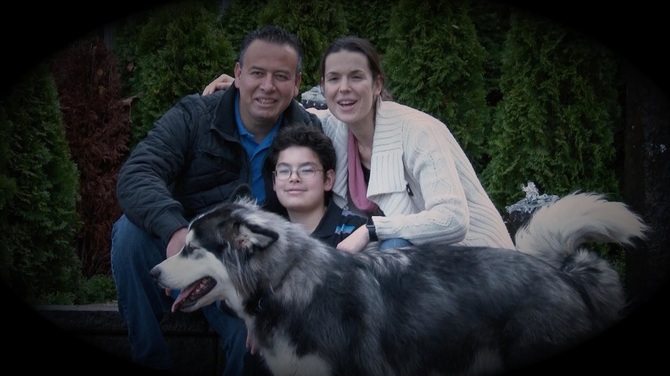 All of us are well aware that total communication is made up of the verbal and non-verbal. That's why we have all learned – very dramatically at times – that words alone fall short and do not let us communicate all we really want to "say".
We've all heard people say in connection with something that packed a big emotional impact –good or bad /scary or beautiful – "I was speechless". Or "I didn't know what to say". Now, a good book can certainly stimulate the verbal – but to some extent the non-verbal side of communication as well.
Well written books bring about very vivid visual, acoustic and tactile interpretations within our minds. But many of us will agree that books still can fall short of the verbal and non-verbal experienced through a movie.
​     Certainly, for most of us, the next best thing to being there is a video or film production. This contributes much more of the non-verbal side of communication.
Therefore, sharing the verbal and non-verbal world of emotional challenges and rewards faced by children and parents – like Monty and his parents – requires something special – very special. But where could you find that special communication mechanism that will allow you to virtually experience the journey of Monty and his family for our theater audience? Amazingly, it was found right here within the Christmas Spectacular – it's own Cast, staff and creators.
​
It all came about rather casually in bits and pieces. An initial meeting took place with Robin and her son, Monty at the Historic Hartley Mansion in downtown Everett and the experiences that were locked up within the life of the family could be sensed.
Through an invited guest that day, Charles Avelange, a young Los Angles film composer, who was so moved by Robin and Monty that he began the process of creating a song writing project with an award wining lyricist in LA.
Through Allan Park, Washington State piano teacher extraordinaire, a presenter many a presenter many classical piano presentations at the History Hartley mansion, who hinted that a Classical composer, like Scriabin could be interesting.
Through Allan's competition winning student, Kyran Adams, the incredible young pianist, whose musical talent partnered with his outstanding academic achievements gave him the "virtuoso chops" for the job.
​     Through Jack Klitzman, Musical Director of the Seattle Theater Group (Paramount and Moore Theaters) for making the connection with Alexandra Picard and her wonderful recording of "Dream Songs" with the N.W. Symphony Orchestra – that opened the vistas of 'Somewhere Over the Rainbow" and "You'll Never Walk Alone".
​     Through the great vocal talent of Megan Chenovick and Victor Benedetti, long time cast members of the Christmas Spectacular, whose entrancing voices could symbolize the words of the boy's mother and father.
Again through Jack Kiltzman, musical arranger for Nearly Dan, who wrote out the arrangements for the 3 synthesizers with supporting musicians that were critically needed to replace an entire symphony orchestra that could never fit in the middle of the stage occupied by a choir, band and piano..
And lastly David Eaks and Puget Sound video, founded by his late father, Richard Eaks, that can help bring the critical visual aspect of the story line home through on -location= video shoots – and of course the long hours of post-production editing and creativity.
​     If the efforts of the Christmas Spectacular Cast, Staff and creators have been successful, you will not only have learned the story of Monty and his family's journey – but you will have experienced it as well!
Monty's Journey: A Family's Perspective